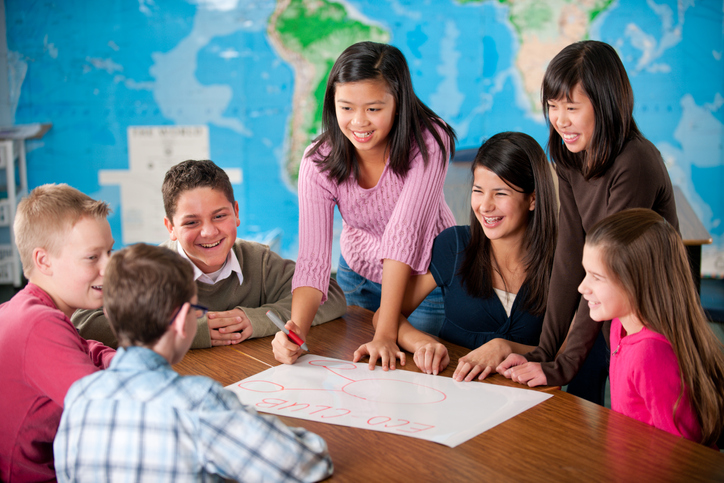 Using real-world examples, research-based principles of instruction, a teacher-oriented practical workbook, and authentic classroom videos, this professional development workshop is primarily designed for classroom teachers in elementary and middle schools (Grades PreK-8). It is also appropriate for ESL, bilingual teachers, para-educators and collaborative teaching teams. Other educators (including ESL and other specialists and school, district and state administrators) will also find value in this professional development opportunity.
Authentic Classroom Video
The workshop presents classroom video including segments that demonstrate principles of instruction for ELs, teacher scaffolding for oral language output, academic language in a math class; six steps to vocabulary mastery; and interactive reading aloud with a focus on oral language and vocabulary development for young early childhood English learners (Kindergarten).
Workshop Topics
Topics covered include classroom conditions for oral language development; oral language proficiency levels; listening comprehension; strategies for promoting oral language development; Common Core State Standards for English Language Arts (listening and speaking); use of story books, songs, chants, and rap to promote oral language; academic vocabulary learning; and cooperative learning structures.
Objectives
Describe classroom conditions that promote second language learning.
Distinguish five levels of oral language proficiency and teacher and student behaviors appropriate for each level.
Examine teaching strategies that scaffold learning while increasing classroom interaction, comprehensible input, language output, and academic language learning.
Identify cooperative learning structures and explain how they promote interaction and develop oral language and vocabulary.
Develop a list of teaching and learning strategies that enhance academic vocabulary development, with particular attention to the needs of second language learners.
Explain why higher order thinking tasks promote authentic oral language skills.
CAL can work with you to customize a workshop or series of workshops to best meet your needs.